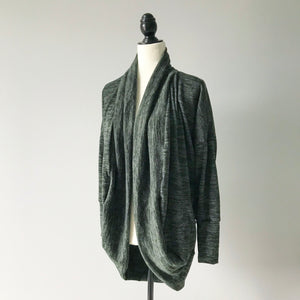 Women's Cocoon Cardigan made of beautiful melange sweater knit (80% Polyester, 15% Rayon, 5% Spandex). Hits approximately mid-thigh on a 5'5" frame. These are a relaxed fit and made with stretchy fabric, giving a bit of flexibility in sizing.
XXSmall fits 30-31" bust
XSmall fits 32-33" bust
Small fits 34-35" bust
Medium fits 36-37" bust
Large fits 38-40" bust
XLarge fits 41-42" bust
XXLarge fits 43-45" bust
Plus 1X fits 46-48" bust
Plus 2X fits 49-51" bust
Plus 3X fits 52-54" bust
Please note: Colours in images shown may vary slightly from true colour due to lighting or screen display settings.
This item is custom made upon request. Please allow approximately 4 weeks for product to be finished